Bookstore management software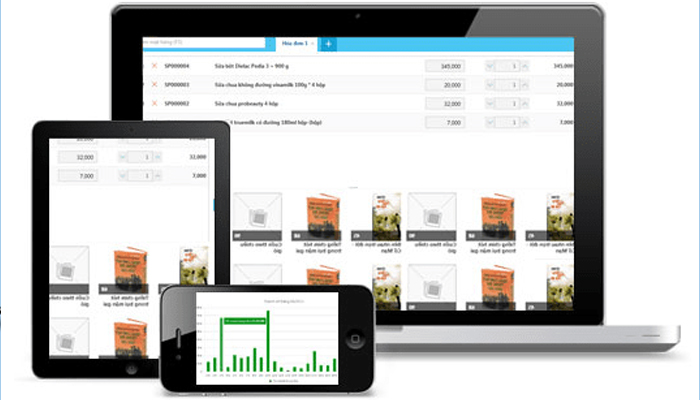 Bookstore management software
With experience in deploying bookstore management software for many bookstores in Danang and bookstores nationwide. Bookstore management software is ready to upgrade to a higher version to meet management requirements, expanding the scale of the bookstore chain.
Common problems when dealing with bookstores and stationery
– Comprehensive bookstore has thousands of titles with many genres, authors, readers age, publisher …. makes managing and remembering the full list of goods difficult
– When selling, the cashier wants to calculate the discounted price, promotional price for customers but does not know how much discount information according to the book title, cover price or preferential for customer group.
– Book and stationery stores are in large numbers, inventory management, inventory value or the situation of importing and exporting goods take a lot of time, often encounter deviations, especially when the store has many warehouses. or a bookstore chain with many branches
– It is difficult to control the exact situation of liabilities with suppliers, list of agents, sales of each agent
– The situation of sales, loss, revenue, and debt makes the bookstore system owner spend a lot of time synthesizing information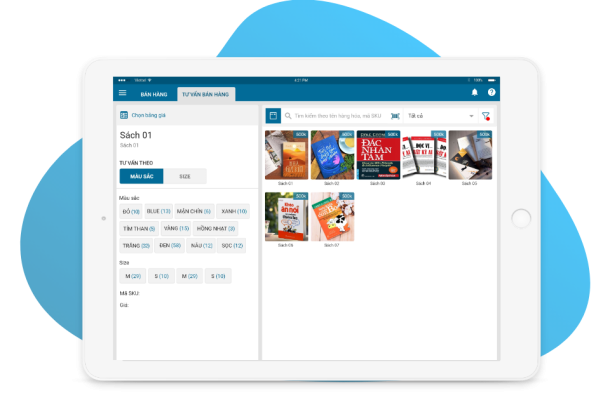 The main function of the bookstore management software
1. Managing import and export
+ Allow to calculate the price of inventory by many different methods: first in – first out, monthly average, mobile average, specific name.
+ There are many specific input screens handy for users such as direct import, export, purchase, import, cost entry, returned goods, suppliers, dispatched warehouse …
+ Managing import and export
+ Manage import details
+ General management of goods import
+ Manage delivery details
+ General export management
+ Managing import and export
+ Warehouse card
+ Detailed book of supplies
2. Revenue management
+ Revenue management by day / month / year
+ Manage revenue over time
+ Manage details of revenue
+ General management of revenue
+ Analysis of revenue from time to time
+ Management of returned goods
+ Sales report by employee
+ Sales analysis chart
3. Managing cash book
+ General management of cash / deposit collection
+ Manage cash / deposit details
+ Balance sheet of revenue and expenditure
+ General expenditure management
+ Manage details
+ Cash fund book
4. Debt management
+ Summary of customer liabilities
+ Detailed table of customer liabilities
+ Summary of customer liabilities by invoice
+ Detailed list of customer debt by invoice
+ Summary of supplier liabilities
+ Detailed table of supplier liabilities
+ Summary of supplier liabilities by invoice
+ Detailed list of supplier liabilities by invoice
+ Notice of customer debt
+ Supplier debt notice
5. Manage promotions
+ Promotion with cash, discount, discount
+ Promotions to give gifts, to give goods
+ Promotion with both money and goods
+ Selling 1 code may give you lots of offers
+ Hourly promotion (Happy hour)
+ Applies to all customers or to a number of customers
6. Contract management and commission calculation
+ Contract list: Number, date, duration, content, value
+ Commission commission table for contracts.
+ Commission for referrals
+ Calculating commissions for sales staff
+ Monthly sales report
7. Automatic inventory warning. (bookstore management software)
+ Inventory is warned based on the minimum inventory limit and maximum stock limit.
+ Warning export / sell too inventory
8. Automatic warning of customer debt
+ Based on the debt limit exceeding the level allowed by the customer
9. Managing multiple branches and industries
+ Winta Sales aggregates data on all reports by many branches and different industries.
10. Send report via Email to the manager and customers
+ Just a simple operation, can send detailed reports … to many people at the same time, in a period of only in seconds
BENEFITS WHEN USING BOOK SHOP MANAGEMENT SOFTWARE
User decentralized management software
+ User authorization function allows permission from managers, salespeople, storekeeper … to view and edit information but not to reduce the confidentiality of software because only when allowed The administrator has allowed the users to view and edit the information
Integrated receipt printer, fast cash
+ The software has the ability to easily integrate with the receipt printer, support bookstore – stationery staff to charge customers quickly, saving time.
Connecting each reader to read books, check inventory easily
+ Just paste the barcode on the product, easily integrated barcode reader, support inventory quickly.
Flexible discount by book category
+ Flexible management% discount by book category. Adjust the discounts and promotions as you like.
Ability to check edits wherever you are
+ With the function of updating 100% data to the system, even though you are not at the store, you still control the business situation, sales, revenue and expenditure of the store, business performance of each employee. by specific numbers and details
SKYTECH TECHNOLOGY DEVELOPMENT CO. LTD
Address: Lot 43, P3.10, Hoa Binh 4 Street, Hoa Quy Ward, Ngu Hanh Son Dist. Danang
Representative office: 320 Street 2/9, P. Hòa Cường Bắc, Q. Hải Châu, TP. Danang
Phone: 0905.063.126 – 0902.401.024.
Email: sales@skytechkey.com
Facebook: https://www.facebook.com/SkyTechKey.Web.PhanMem.Camera.BenReDep/
Instagram: https://www.instagram.com/skytechkey/
Twitter: https://twitter.com/SkyTechDaNang
See more : Service ,Software design services ,Solution
Contact now Skytech today for the best deals..