Brand identity design
Brand identity design is an important and must-have element for every business to realize its value in the business market.
Creative and professional brand identity design for the purpose of promoting the brand most widely, is the fastest and most effective way for a business development strategy of a business.
What is brand identity design?
Brand Identity is a collection of graphic elements, colors, text and symbols designed to create a uniform and recognizable image of a brand. Brand identity helps customers easily recognize your brand, building trust and loyalty from customers.
To design an effective brand identity, designers will research and understand the brand, its core values, and its goals. They will create sketches, test and tweak to ensure that the brand identity matches the mindset and message the brand wants to convey. Through this process, the brand identity will be shaped and bring value in brand building and creating the identity of that brand in the market.
When designing a brand identity, the following factors should be kept in mind:
Purpose: The design of the brand identity must be consistent with the purpose and values of the brand. It must reflect the brand's personality, values, and goals.
Unique: The brand identity needs to be designed so that it is unique and not confused with another brand.
Simplicity: The design should be simple, memorable, and recognizable. Should not be too complicated or cumbersome to avoid confusing customers.
Color: Color in a brand identity has a strong impact on customers' emotions. Choose the right color to create an impression and identity of your customers.
Suitable for media platforms: The brand identity needs to be suitable for different media platforms, from print, website, to social networks and online advertising.
When designing a brand identity, there needs to be meticulousness and consideration to create a good brand identity, which helps increase brand recognition and contributes to the success of the business.
Design services Brand identity?
– In-depth consulting services on brand identity and how to build brand identity for reputable and professional businesses.
– Help businesses transmit vision and mission as well as professionalism and prestige through brand identity design.
– Products from brand identity design services meet the aesthetic requirements: Beautiful, unique, suitable, professional.
– The final handover product ensures brand protection and is synchronized with the corporate image.
– A brand new image, modern and catch up with market demand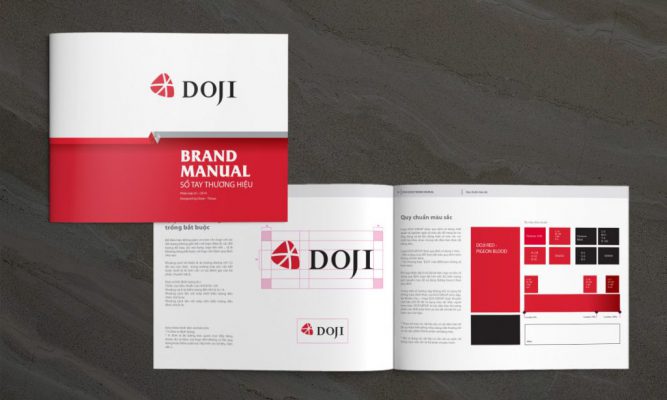 System of brand identity includes:
1. Identify office brands
Employee identification card
2. Brand identity on products
Stamp sticker on the product
3. Brand identity of outdoor products
Banners

Signboard in front of the office
4. Marketing brand identity
Catalogue
Brochure
Website

TVC production advertising
Contact now Skytech today for the best deals..