– Professional: Understanding work, sense of discipline, always have a positive and open attitude in communication.
– Dedication: A high sense of responsibility with the best effort will be a great strength to overcome all difficulties and challenges to achieve the goals set forth. Dedication for customers, dedication to work is the leading philosophy in thinking and acting towards the common development goal.
– Innovation: Always update technology technology, bring effective value to customers.
– Creativity: Learn, improve your own skills in the process of thinking. Learn and learn to find new, best solutions to achieve the best results.
– Sustainable: Comprehensive development in all aspects, core values ​​always go hand in hand with the development of the company.
Best product quality and service, continuous improvement. Meeting customer requirements is the most important factor for SKYTECH's sustainable development
What are the core values of the business?
Core values are the set of beliefs, ideals, and orientations that each person establishes for his or her personal life. Simply put, how you define who you are, your value is like that.
So the  core value of an enterprise is a set of general principles and ideals that people in the organization want to aspire to. These elements are created over a long enough period of time for it to form the personality of the business.
These values can indicate what an organization's people are (e.g. dynamic, young or professional) or its business motto (e.g. sustainable development). stable, customer is king,…)
Core values are often important, because they are the value statement of the business. Some of the characteristics are listed below:
Commitment
Credibility
Thoroughness
Friendliness
Humor
Loyalty
Confidence
Generosity
Respect
Hospitality
Knowing what are the key core values to match the product, internal behavior as well as external relations is the key to the long-term development of that business.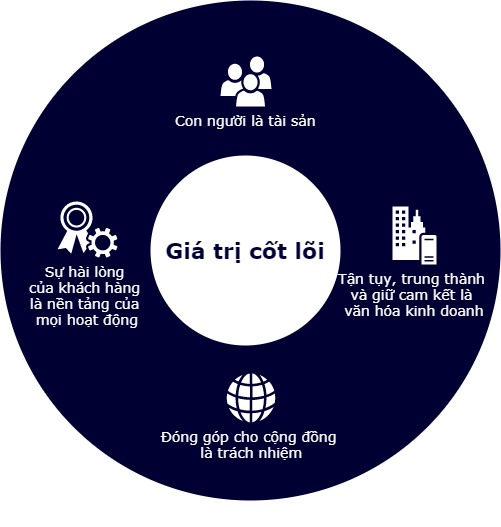 Developing personal career associated with the success of the organization: manifest through the acts / activities to perform the tasks that the individual is assigned with the responsibilities and obligations of the position in the organization. Demonstrate individual contributions to the success of the organization.

Development of professional skills and knowledge: Continuous action to improve and / or progress professional knowledge and skills (according to professional principles or standards), contributing to the development of organized as an individual contributor; or as a member of the group or as a leader / organization.

Diversity and pluralism: Accept and respect the difference in thinking, how to act.

Creativity and flexibility: Provide and / or encourage new ideas that can make organizations or groups better. Need to be open (in thoughts / actions) and adapt to changes.
Contact us today for free support and advice:
TECHNOLOGY DEVELOPMENT CO., LTD SKYTECH
Address: Lot 43, Ward 3.10, Hoa Binh 4 Street, Hoa Quy Ward, Ngu Hanh Son District, City. Danang
Representative Office: 320 2/9 Street, Hoa Cuong Bac Ward, Hai Chau District, City. Danang
Phone: 0905.063.126 – 0902.401.024
Website:  https://webgiare360.com/
Email: Skytechkey@gmail.com
Facebook: https://www.facebook.com/SkyTechKey.Web.PhanMem.Camera.BenReDep/
Instagram:  https://www.instagram.com/skytechkey/
Twitter: https://twitter.com/SkyTechDaNang