Restaurant menu management software
Restaurant menu management software
Restaurant menu management software. Operating from anywhere. Wherever you are, you can always grasp the situation of the operation of the restaurant / restaurant via Smartphone: today is not crowded, how much service capacity, how much revenue, how much profit or loss
Who is your customer?
When you plan to open a restaurant, you have in mind the customer group to serve. There are many types of customers such as Vietnamese, foreign guests, office workers, or young people, groups of customers prefer Western or Asian dishes … Therefore, depending on each object, hobbies or affordability. their menu that you match.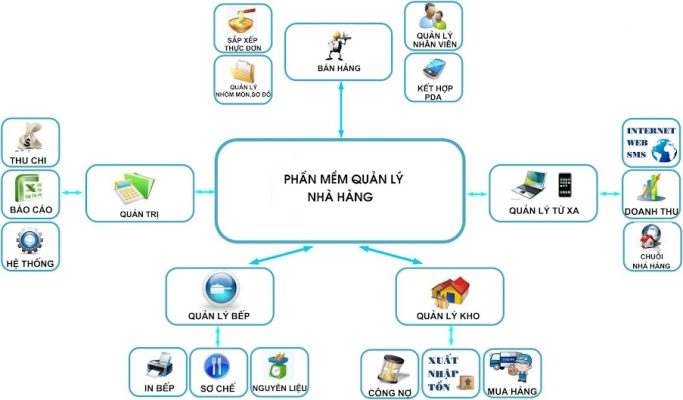 Meet all types of promotions (restaurant menu management software)
No need to waste time calculating complex promotions, taxes, service fees, vouchers. With Skytechkey, the cashier takes only a few seconds to calculate an invoice for customers, helping the restaurant operate effectively when it is crowded.
Designing the menu book
In restaurant business, the menu not only shows its own characteristics but also highlights the food. This is the highlight to help your home different from other restaurants. At the same time will help you attract and retain a loyal customer base
The first important thing in menu design is naming and describing dishes. The name of the dish needs to be short, easy to understand, but still vivid and appealing to customers "look like, listen to crave". Please also introduce the main ingredients in the dish so that customers can easily visualize and choose
Electronic menu – Create excitement for customers
Easily search or select dishes, the number of meals and make notes about each dish
Enhance the interaction between customers and your restaurant.
1: Summary of business operations of the restaurant according to the criteria, helping you make timely adjustments and reasonable economic decisions
Automatically backup data periodically
Accurate results, high information security through automatic calculation and storage mechanism
The ability to customize according to the size and requirements of the restaurant.
Contact us today for free support and advice:
TECHNOLOGY DEVELOPMENT CO., LTD SKYTECH
Address: Lot 43, Ward 3.10, Hoa Binh 4 Street, Hoa Quy Ward, Ngu Hanh Son District, City. Danang
Representative Office: 320 2/9 Street, Hoa Cuong Bac Ward, Hai Chau District, City. Danang
Phone: 0905.063.126 – 0902.401.024
Website:  https://webgiare360.com/
Email: Skytechkey@gmail.com
Facebook: https://www.facebook.com/SkyTechKey.Web.PhanMem.Camera.BenReDep/
Instagram:  https://www.instagram.com/skytechkey/
Twitter: https://twitter.com/SkyTechDaNang
See more : Service ,Software design services ,Solution ,Business sector
Contact now Skytech today for the best deals..