Public Administration Center Solution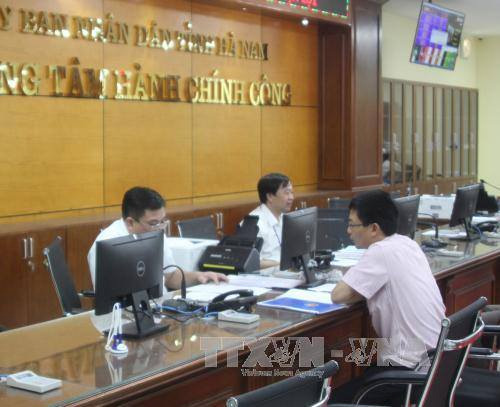 The provincial public administrative center is a new and unprecedented model of administrative procedure settlement in our country. This is considered a creativity, demonstrating the determination of the Party Committees and local authorities in improving the quality of public administrative services towards people's satisfaction, creating a driving force for development from administrative procedure reform. main.
The fact that provincial-level public administrative centers actively and actively publicize and transparent information about administrative procedures and handle administrative procedures by many specific and practical measures in their operations. I have contributed to creating favorable conditions for organizations and individuals to learn and look up information about administrative procedures, thereby making the settlement of administrative procedures more convenient, easier and faster. .
Activities of provincial public administration centers
With the goal of "Administrative reform – Driving force for development, taking the satisfaction of organizations and individuals as a measure of service quality and efficiency", the Center for Public Administration continued to increase in the last 6 months of 2018. strengthen monitoring of the processing of dossiers of departments, agencies and branches to urge the processing and settlement of dossiers to ensure the schedule and prescribed time; coordinate in advising documents to supplement the list of Administrative Centers implemented at the Center in order to create favorable conditions for individuals and organizations when performing administrative procedures. In addition, the Center also cooperates with the Department of Information and Communications. The electronic One-Stop Software supplier continues to monitor and overcome inadequacies.
Initial results from the operation of a number of provincial public administrative centers
People's opinions in handling administrative procedures at provincial-level public administrative centers are an important source of feedback for localities to continue researching to simplify provincial administrative procedures and constantly optimize optimize the performance of this model in the near future.
Many centers periodically report and make specific recommendations to leaders of the provincial People's Committees and specialized agencies under the provincial People's Committees on the status of overdue dossiers and non-compliance with implementation principles. mechanism "one-stop", "one-stop shop", not processing records on software…
Contact us today for free support and advice:
TECHNOLOGY DEVELOPMENT CO., LTD SKYTECH
Address: Lot 43, Ward 3.10, Hoa Binh 4 Street, Hoa Quy Ward, Ngu Hanh Son District, City. Danang
Representative Office: 320 2/9 Street, Hoa Cuong Bac Ward, Hai Chau District, City. Danang
Phone: 0905.063.126 – 0902.401.024
Website: https://webgiare360.com/
Email: Skytechkey@gmail.com
Facebook: https://www.facebook.com/SkyTechKey.Web.PhanMem.Camera.BenReDep/
Instagram:  https://www.instagram.com/skytechkey/
Twitter: https://twitter.com/SkyTechDaNang
See more : State agencies
Contact now Skytech today for the best deals..